LANTorrent
LANTorrent is a wrapper for your torrent application providing configuration backup and restore
So you use a torrent application like uTorrent to download all your favorite items off the internet, to your laptop.
Your hard disk is starting to clog up so you relocate the torrents that you are still seeding to your NAS storage and continue seeding from there.
One day your computer opens up and launches uTorrent, but your WiFi connection is down and you are not connected to your NAS storage.
uTorrent corrupts all you torrents!!!
To recheck all your torrents and get them seeding again will take hours and hours.
What is LANTorrent?
LANTorrent is not a torrent application. It is actually a wrapper for you existing torrent application that adds a layer of protection to stop you corrupting your torrent setup, and recovering when it does.
Features
Automatic startup
You can set it so LANTorrent will start your preferred Torrent application when it starts. Combine that with setting LANTorrent to starts when windows starts, you can now have LANTorrent control the starting of your app.
Startup Protection
If you start your torrent application when off the network it will corrupt your configuration.
If you have LANTorrent set to start your torrent app, LANTorrent will look for your network drive. If the network drive is not accessible it assumes that you are disconnected and will not start your torrent application. This will stop you from accidentally destroying your seeding library.
Backup
LANTorrent can backup your torrent configuration, in the following ways:
On startup
On Close
At predefined intervals
You can choose how many backups you wish to retain.
Restore
If you happen to corrupt your configuration, just choose a backup and click restore and you are back up and running.
Shutdown
LANTorrent monitors the torrent application and will close itself (and perform an on close backup if set), when it detects that the torrent application has closed.
Compatibility
Runs on Windows and requires .Net 4.5
Supported Torrent Clients
uTorrent
Vuze
BitTorrent
BitLord
Deluge
qBittorent
tixati

Fig. 1

By default the application runs in your system tray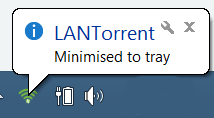 Fig. 2

The main application with your most recent backups. Note the default action is to minimise to the sytem tray. If you want to close you have to be serious as the close button is on the left.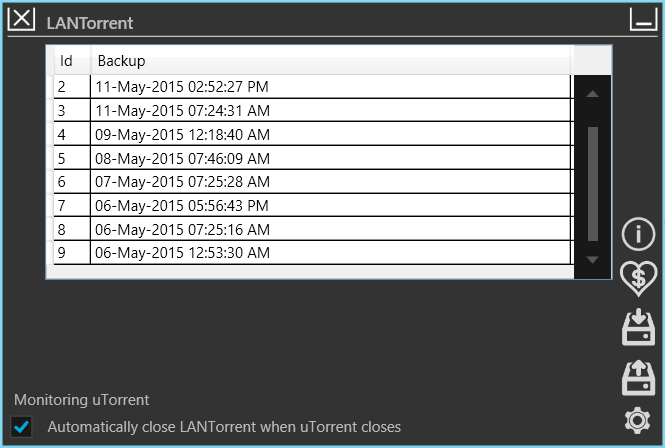 Fig. 3

Settings, including your preferred torrent client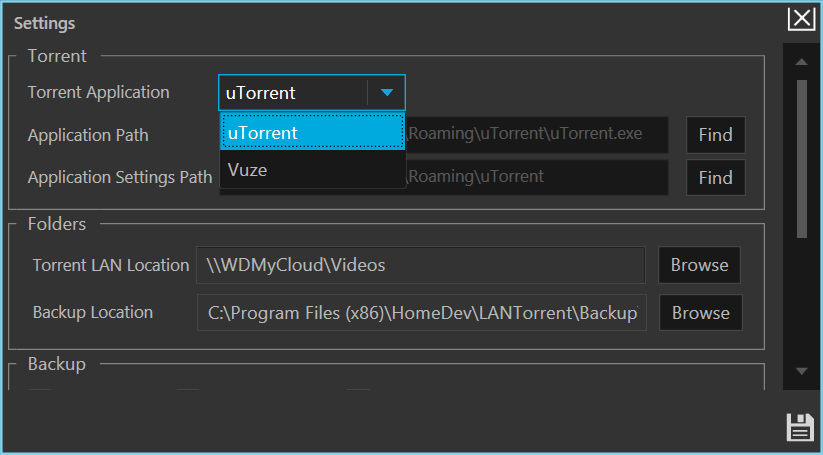 Fig. 4

More settings including backup and start up options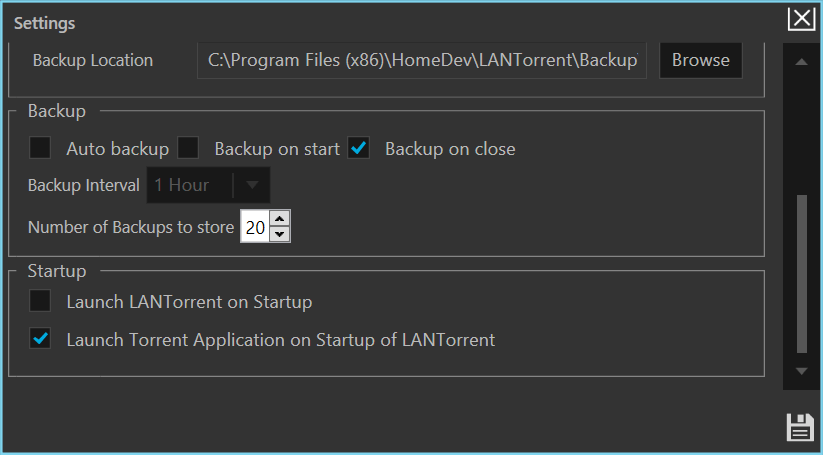 Version 1.1.1.0
Released 16/06/2015
New in LANTorrent v1.1.1.0
Support extended for the following Torrent Clients:
BitLord
BitTorrent
Deluge
qBittorrent
tixati
uTorrent
Vuze
Fixes:-
Improved network connectivity protection
Version 1.0.0.0
Released 14/05/2015
Version 1.0.0.0 of LANTorrent.
Has support for the following Torrent clients
Runs on windows and requires .Net 4.5